Whether you're selling your car to a private individual, a used car dealership or to a junk car buyer, state law dictates that you register the car's transfer of ownership when the transaction takes place. Each state has different regulations concerning the sale of automobiles, but most center around the bill of sale, also known as a vehicle transfer form. You'll also have to fill out a liability release form and sign over the vehicle's title.
What Information Needs To Be On a Bill of Sale?
A generic bill of sale form requires information about the make, model and year of the vehicle being sold. It also requires the Vehicle Identification Number (VIN#) and its odometer reading at the moment of sale. Both seller and purchaser sign the bill of sale and indicate the sum of money paid for it. Some bills of sale also allow the seller to indicate that the vehicle is a gift.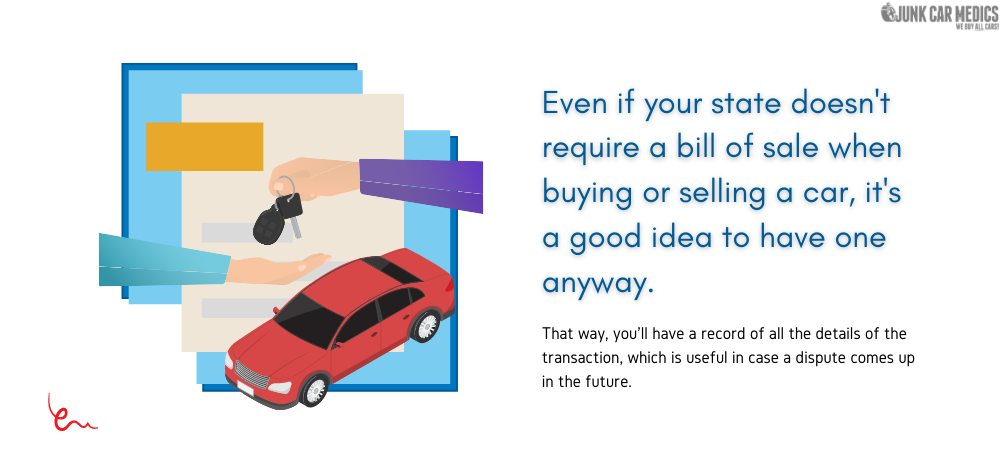 Some states require that only certain, state-approved bills of sale be used when transferring vehicle ownership within state borders. In many cases, these documents cannot be downloaded, as they are printed on security paper that maintains the document's legal legitimacy. The following states require the use of approved bills of sale:
Arizona

Georgia

California

Idaho

Missouri

Nevada

Maryland

New Mexico

Oregon

South Carolina

Utah

Virginia

Connecticut

Indiana

Montana

Washington

North Dakota

South Dakota
These states have specific requirements concerning what information needs to be present on any vehicle transfer form submitted to their governing bodies. Check with your state DMV to determine what specific documents you need.
You can also read about junkyards that buy cars with no title.
What Is the Difference Between a Bill of Sale and a Title Transfer?
The bill of sale indicates that the vehicle has transferred ownership from one party to another, but does not necessarily prove ownership of the vehicle. Only the title transfer proves ownership of a vehicle. A vehicle owner who sells a car without transferring its title could be found liable for fines and violation of state regulation.